Schauspielhaus Pfauen – vormals Schauspielhaus Pfauen –
Hinter der Gründerzeitfassade des Blockrandes staffelt sich der Baukörper des Pfauen mit der klassischen Volumetrie eines Theaters. Durch den Abriss vom Mittelrisalit des Blockrands wird dieser Baukörper sichtbar und die Theaterfassade tritt in Erscheinung. In der Folge entsteht ein Vorplatz wo einst das Kassenfoyer war, das Kassenfoyer findet Raum im ehemalige Foyer, das Foyer im Zuschauersaal, der Zuschauersaal auf der Bühne. Jetzt braucht das Schauspielhaus eine neue Bühne. Das Theater macht einen Schritt zurück in den Block und wächst dabei. Jeder Raum wird etwas größer und kann in seiner veränderten Funktion den heutigen Anforderungen gerecht werden.
"…a medley of unique and distinct shapes (…) also distinguished by use (…) and by decor (…). The increased variegation of usage and effect is the counterpoint to a transcending homogeneity of space. A concatenation of interiors of magnified individuality dispels any sense of latent sameness; each room is its own little empire of activity, allusion and colour; each a totally encompassing enterprise." (Robin Evans, The Developed Surface)
Amphitryon – der, den es zweimal gibt –
Das Projekt setzt mittels Abriss, Umbau, Neubau und Umnutzung die Tradition des Weiterbauens und Anpassens des Theaters fort. Es legt eine weitere Schicht über das Pfauen als                  "Ort der Gleichzeitigkeiten" (Benjamin von Blomberg).
Durch die Verschiebung wird das Schauspielhaus zu einem Doppelgänger seiner Selbst. Es bleibt das alte Pfauen und es wird das neue Pfauen. Die vormalige Funktion und Gestalt wird überlagert von der jetzigen Funktion und Gestalt. So entstehen Doppeldeutigkeiten, sowohl für für jeden einzelnen Raum, als auch für das Theater als Ganzes, die die Identität des Schauspielhauses transportieren.
"Halt dort! Wer geht dort? – Ich. – Was für ein Ich? – Meins mit Verlaub."                               (Amphitryon, Heinrich von Kleist)
Project by:
Isabel Lehn-Blazejczak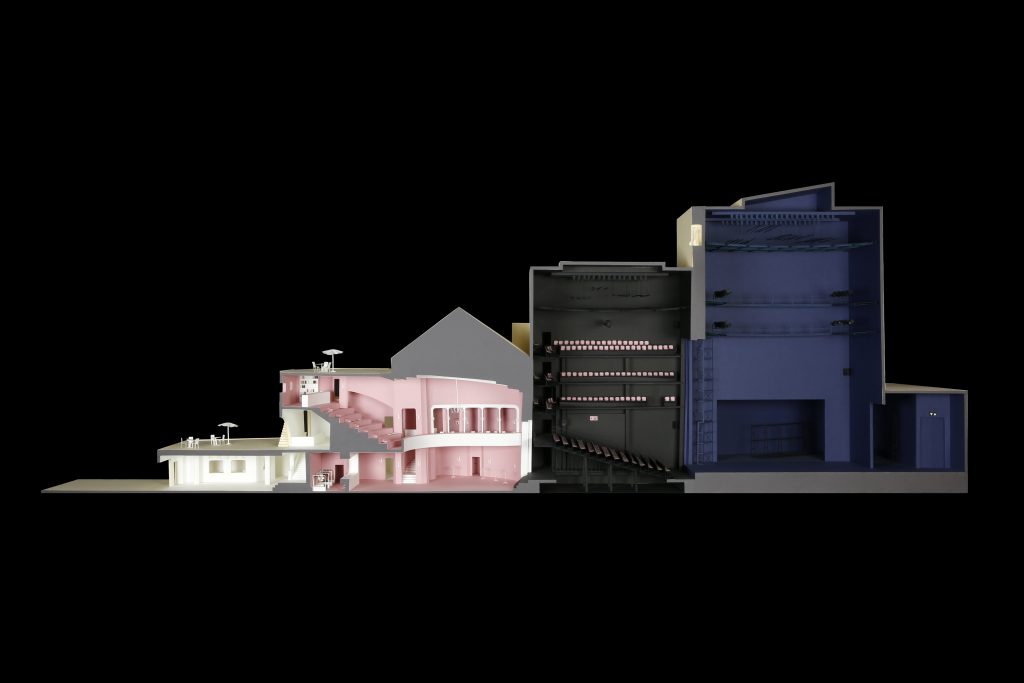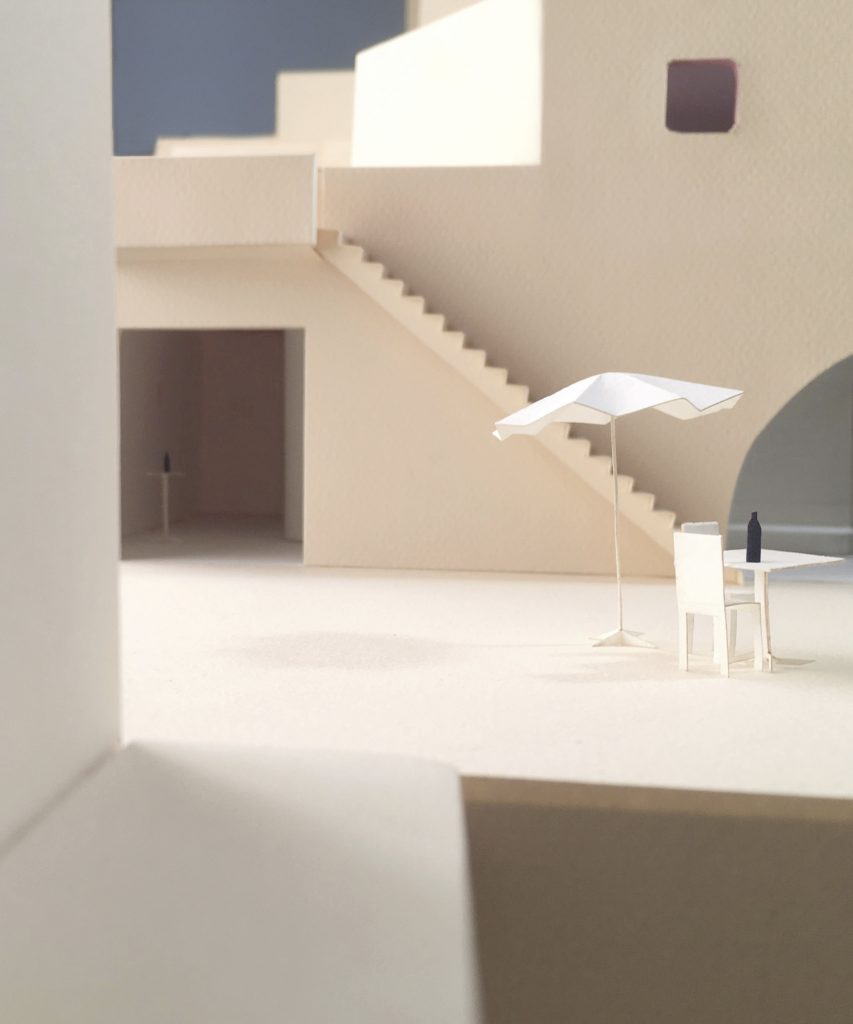 Der Vorplatz - vormals Kassenfoyer -

Ein Ort vor dem Theater zum Ankommen und Warten und der erste Schritt ins Theater. Er repräsentiert das Pfauen und strahlt dessen Botschaften in die Stadt hinaus. Von hier sind das Kassenfoyer, das Theaterrestaurant und die Theaterterrasse erschlossen.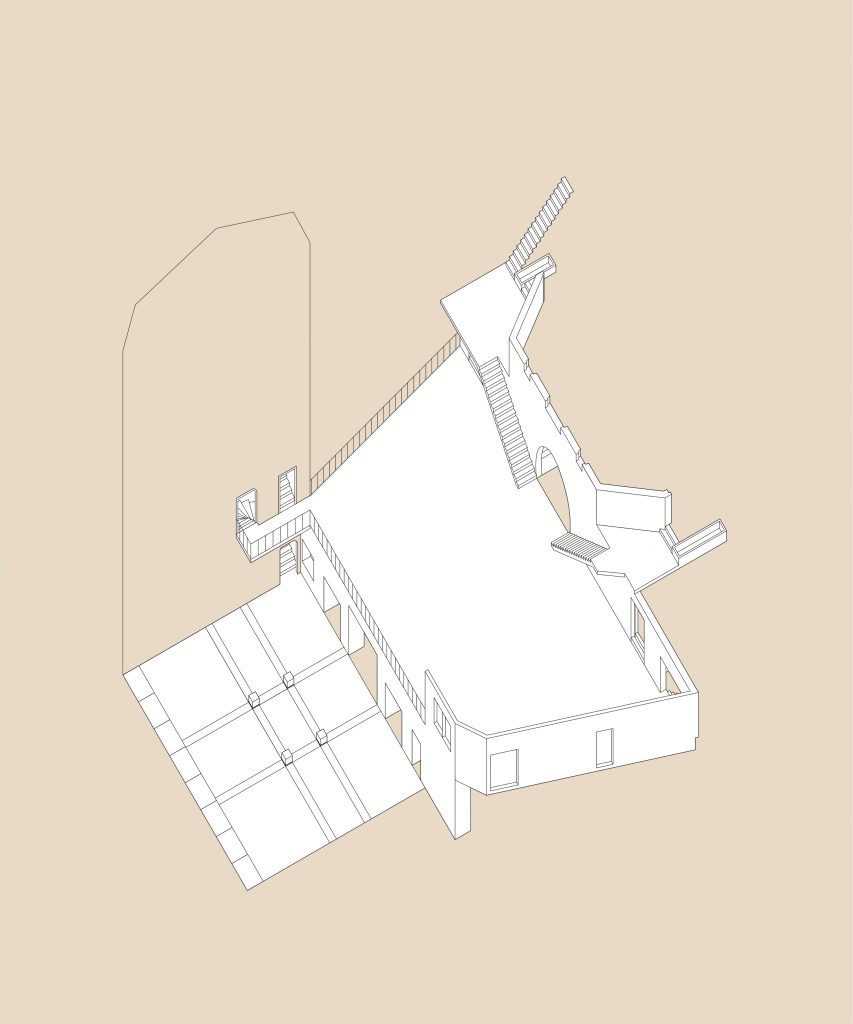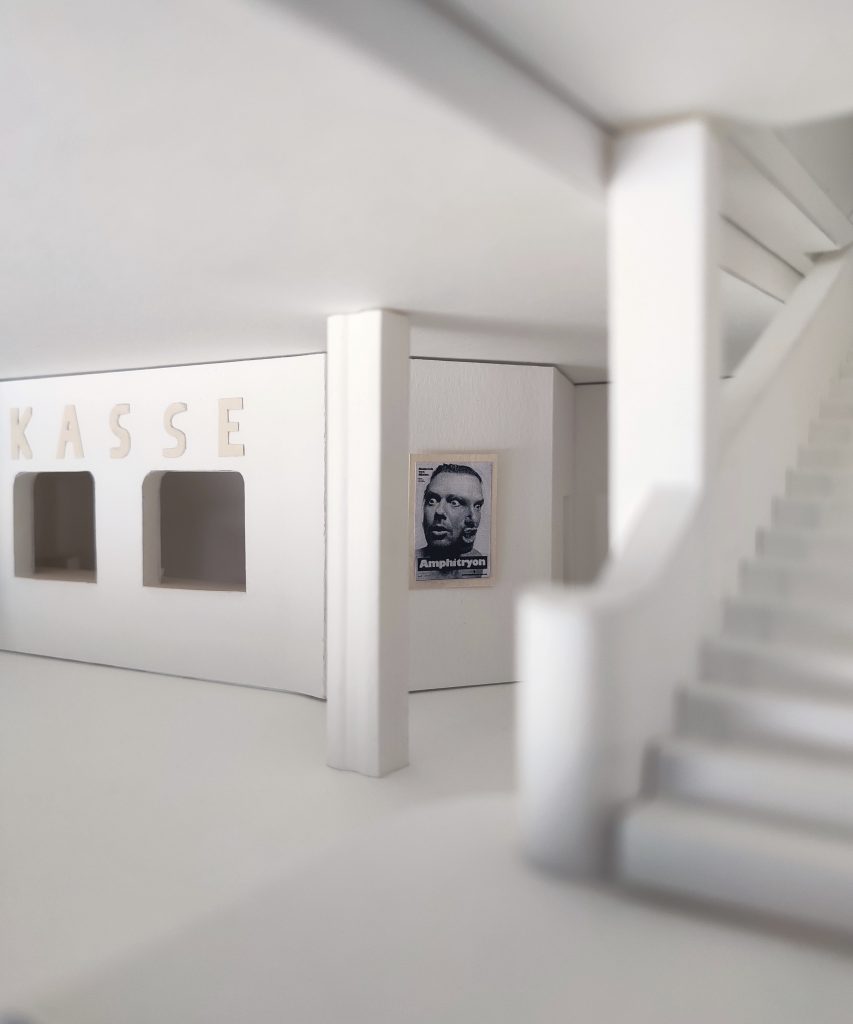 Das Kassenfoyer - vormals Foyer -

Ein Durchgangsort, der zwischen dem Stadtraum und dem Theater vermittelt. Er ist hell und durchlässig. Im Erdgeschoss befinden sich die Kassen und der Theatershop, im Obergeschoss die Pergola.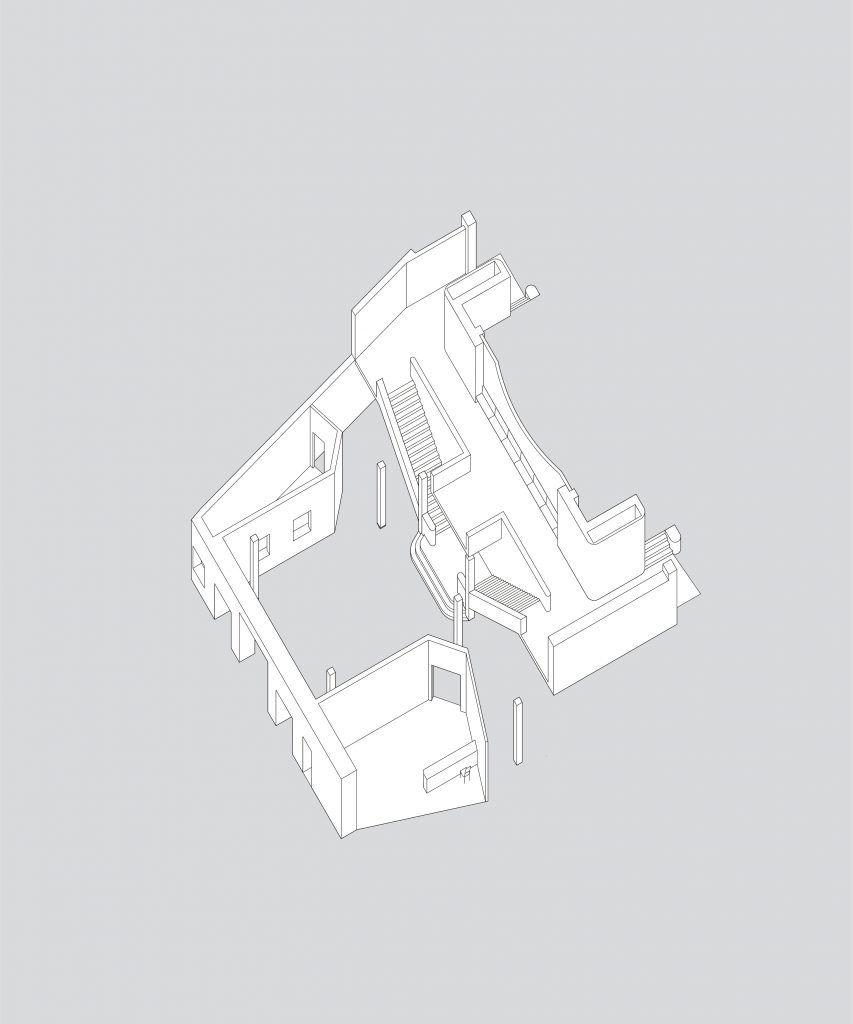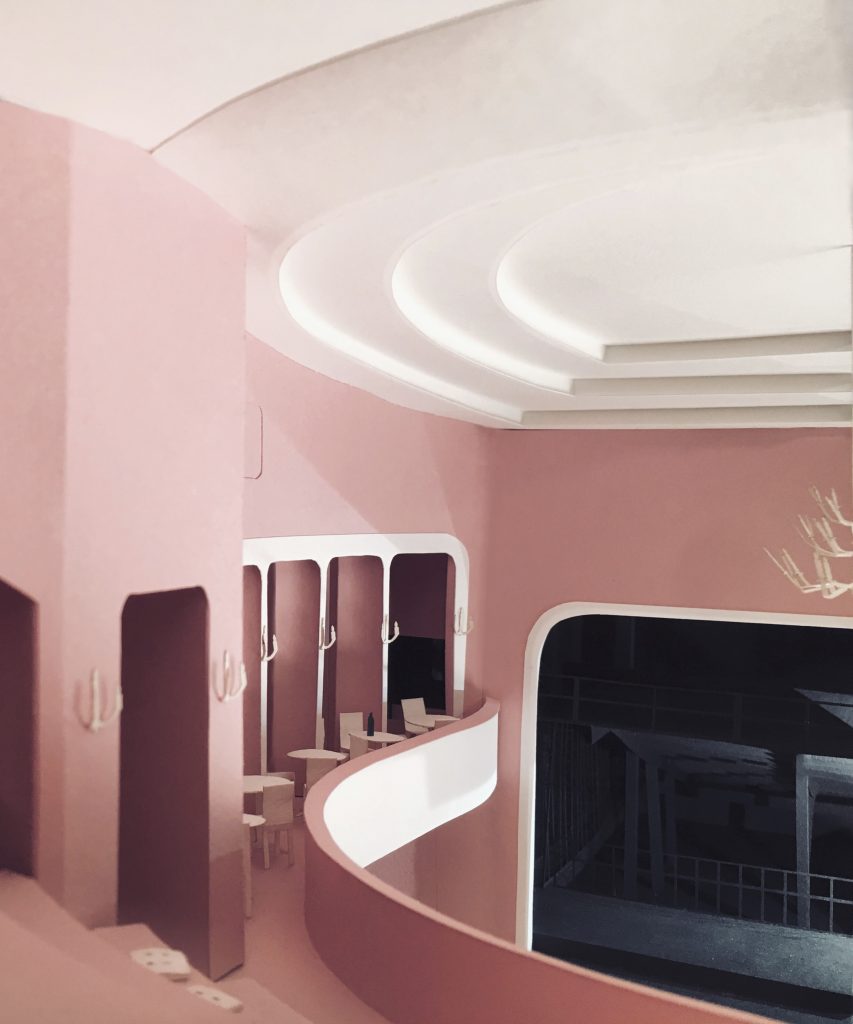 Das Foyer - vormals Saal -

Es ist glamurös, rosa, gold, plüschig, und festlich beleuchtet. Die Aura des geschichtsträchtigen Ortes kann zwischen Garderobe und Bar weiter bestehen.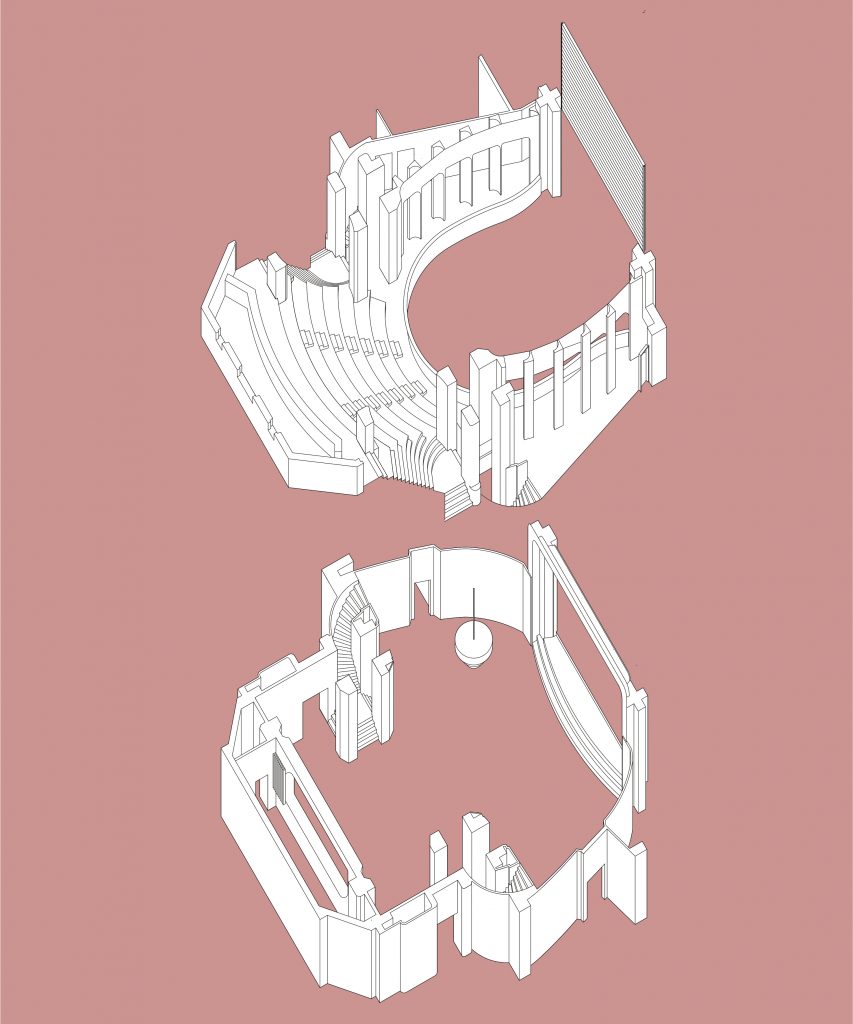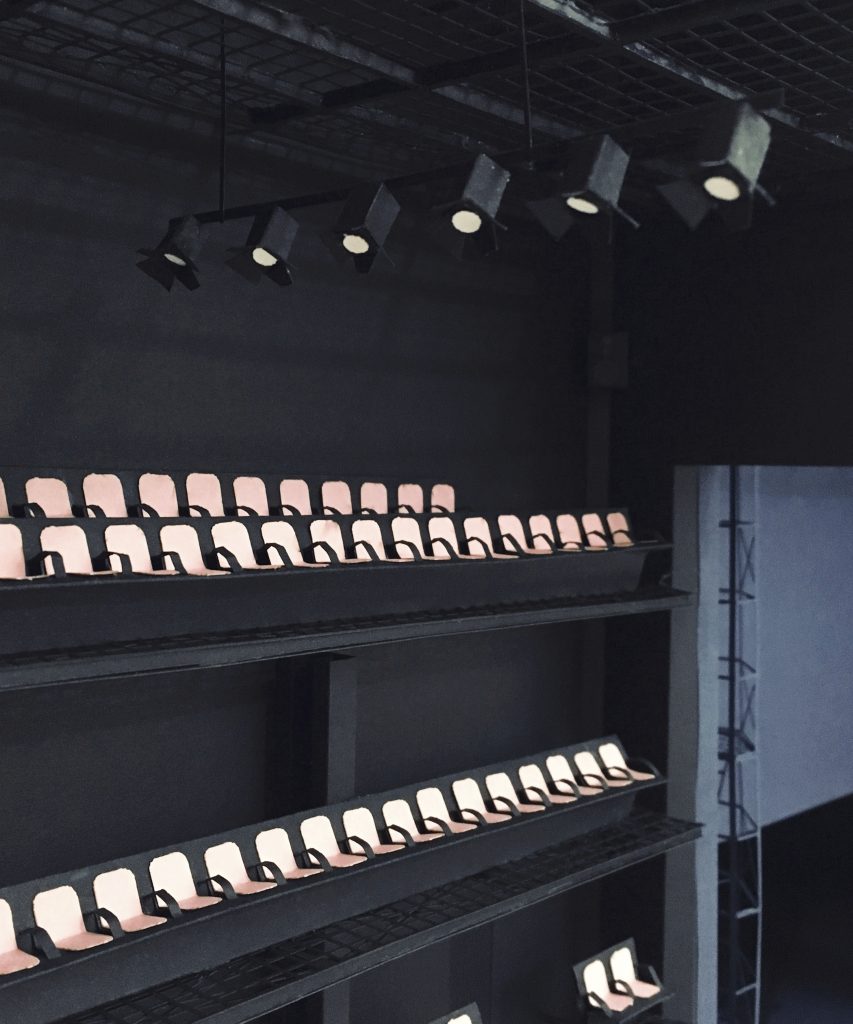 Der Saal - vormals Bühne -

Er ist schwarz und absorbiert das Licht, die Geometrien und die Besucher. Auf den abgehängten, metallenen Arbeitsgallerien entstehen Balkone für die Zuschauer, das Parkett wird aus den Hubpodien geformt. Beleuchtet wird der Saal von den ehemaligen Bühnenscheinwerfern.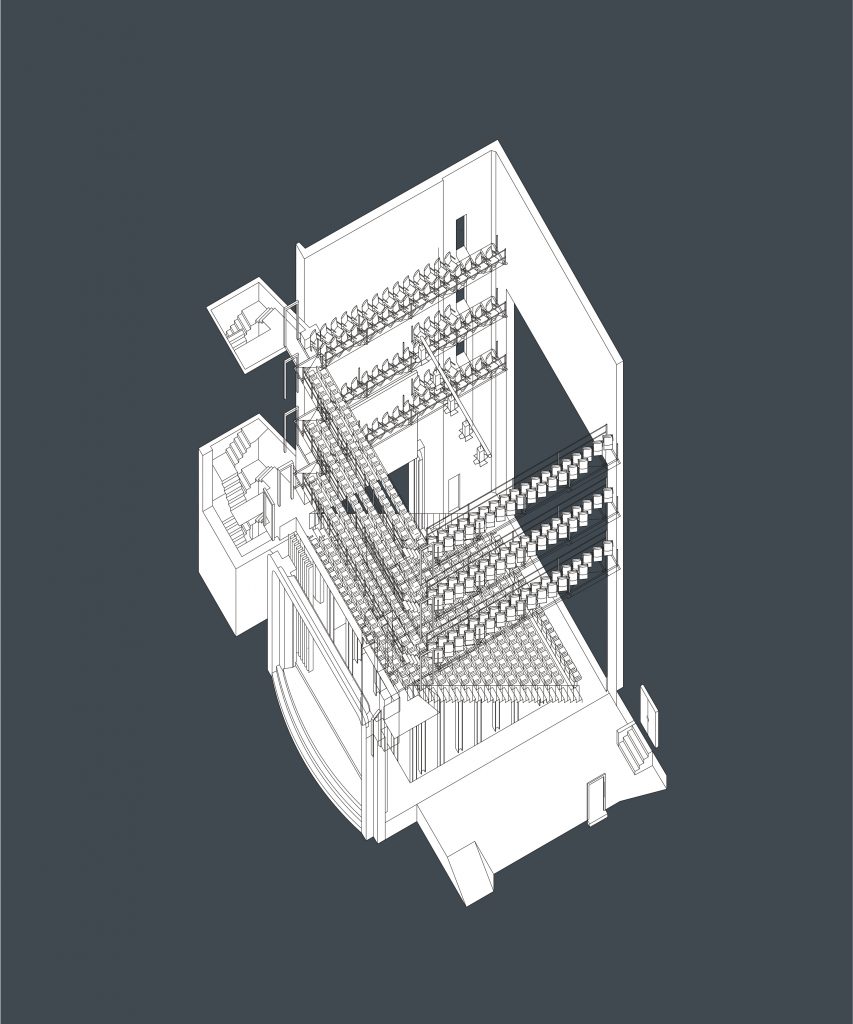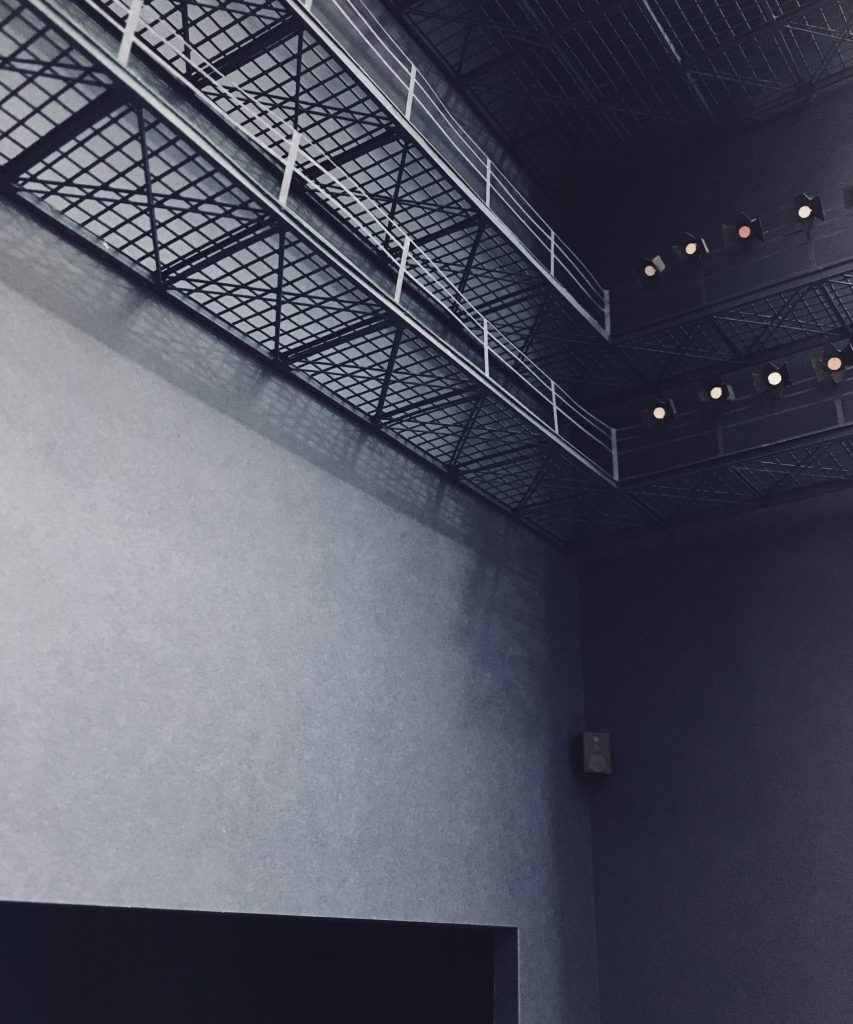 Die Bühne - vormals Hinterhof -

Sie ist neu, gross und flexibel. Ohne an die Formen des vormaligen Pfauen gebunden zu sein, kann sie alles ermöglichen, was die Herzen der Theatermacher und -konsumenten begehren.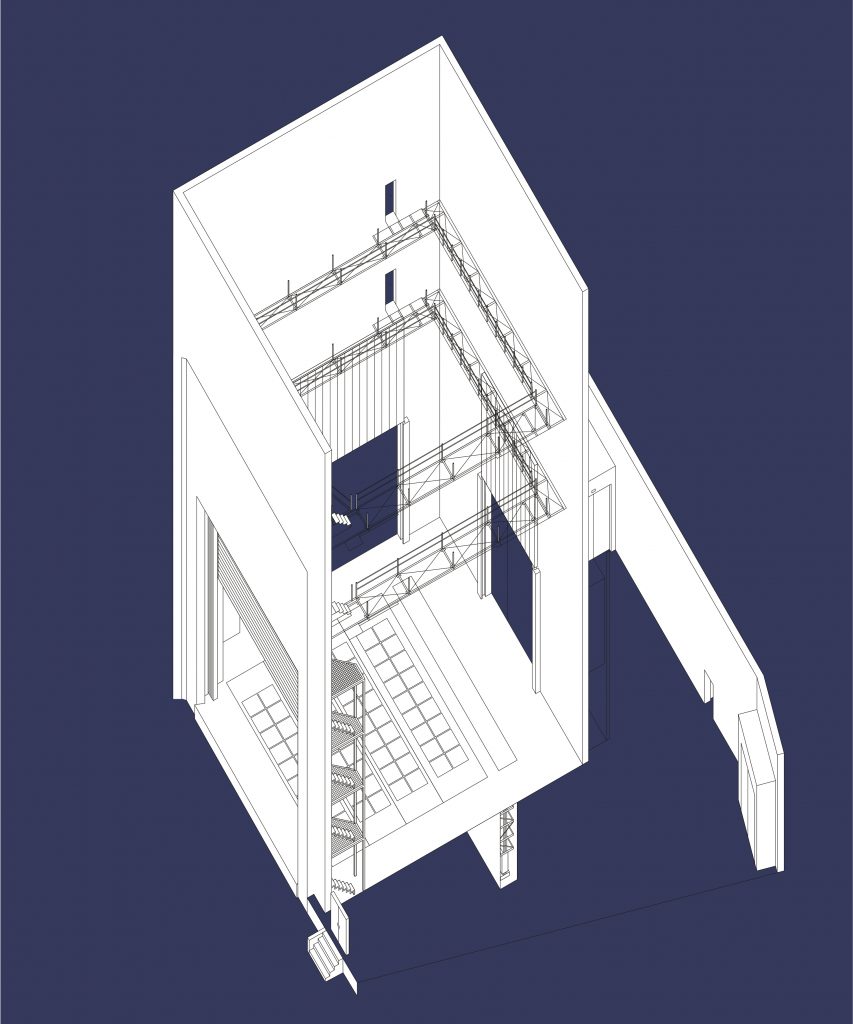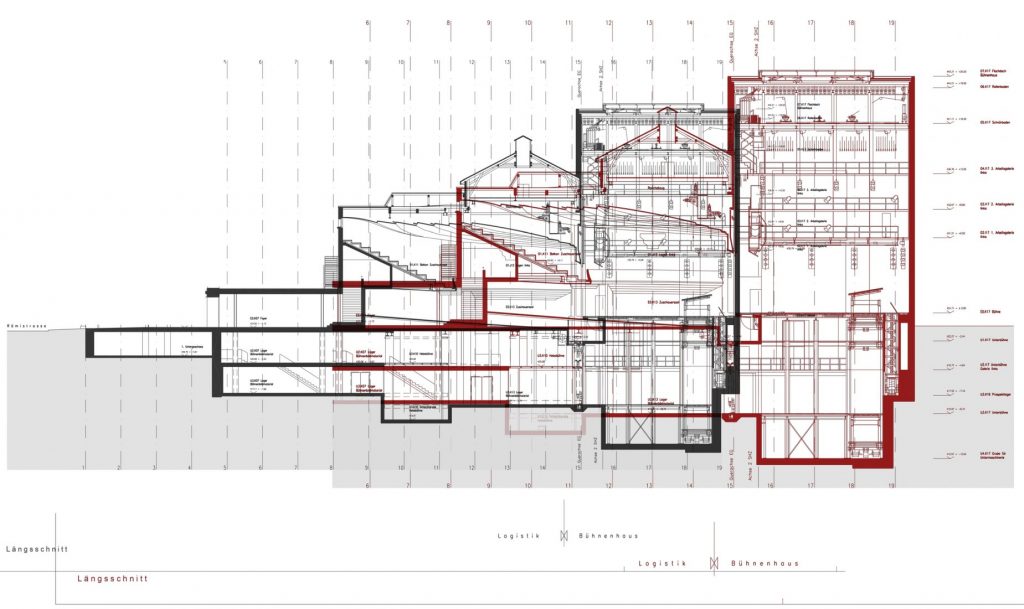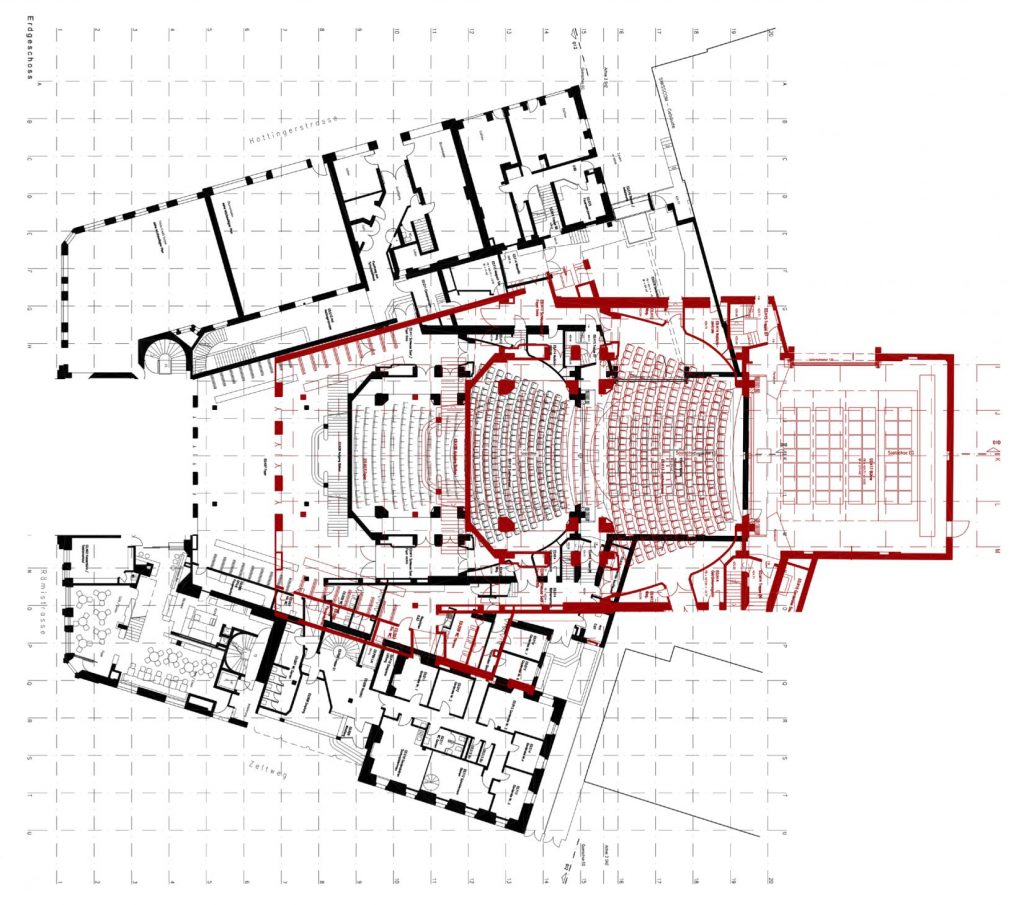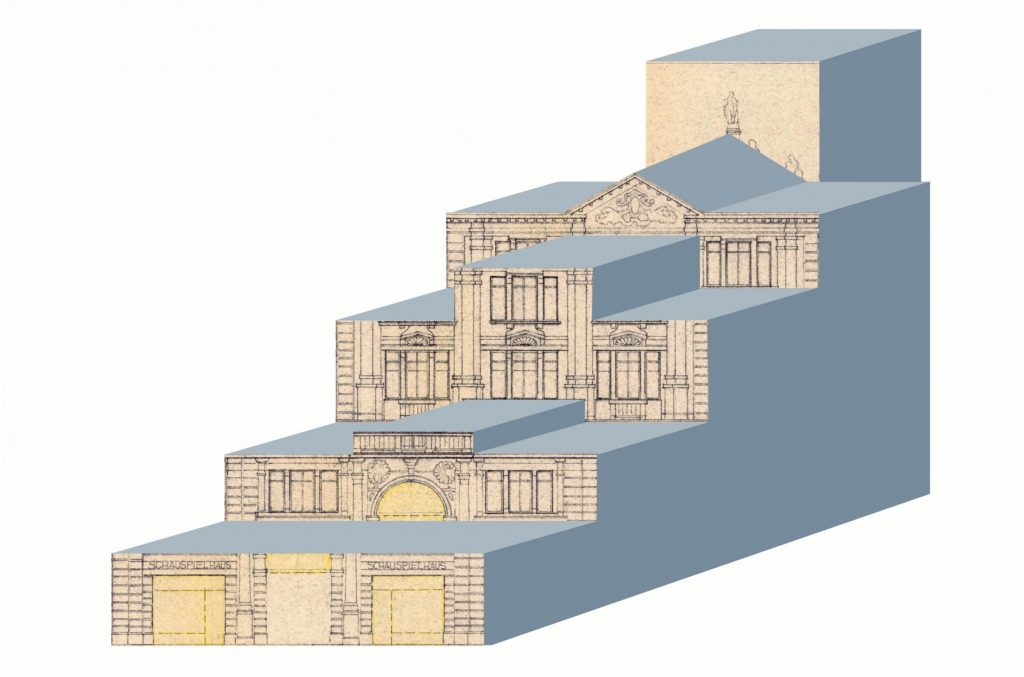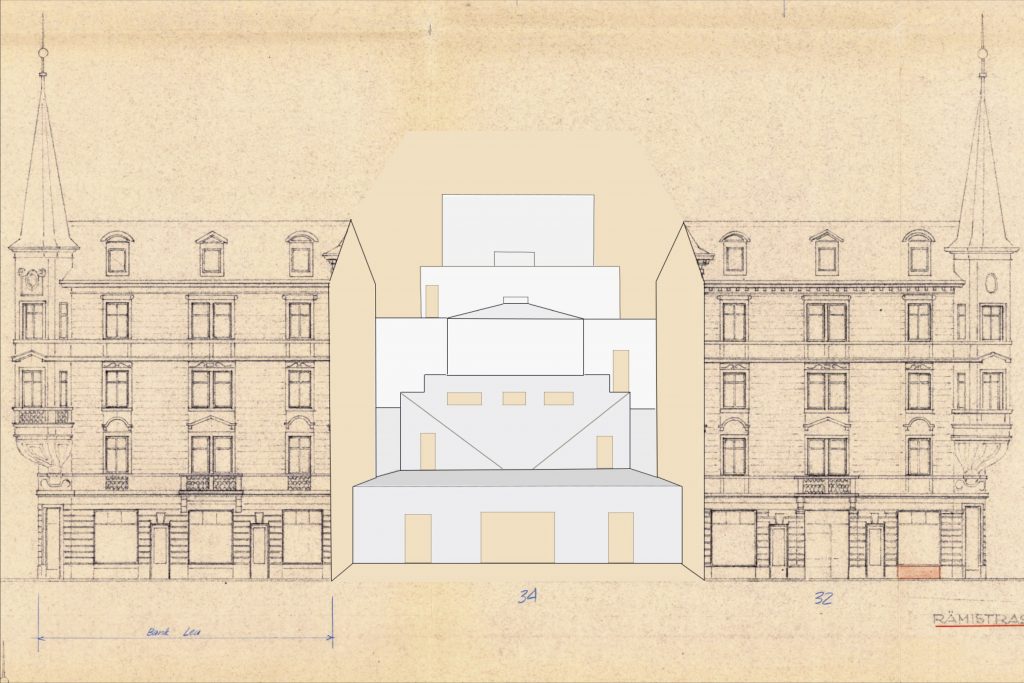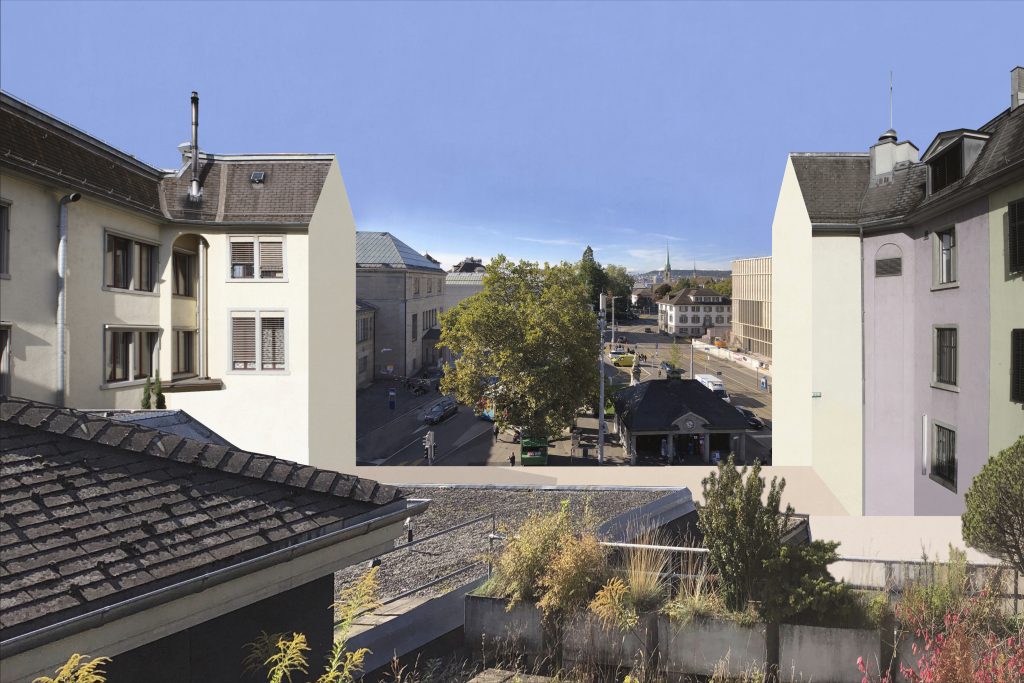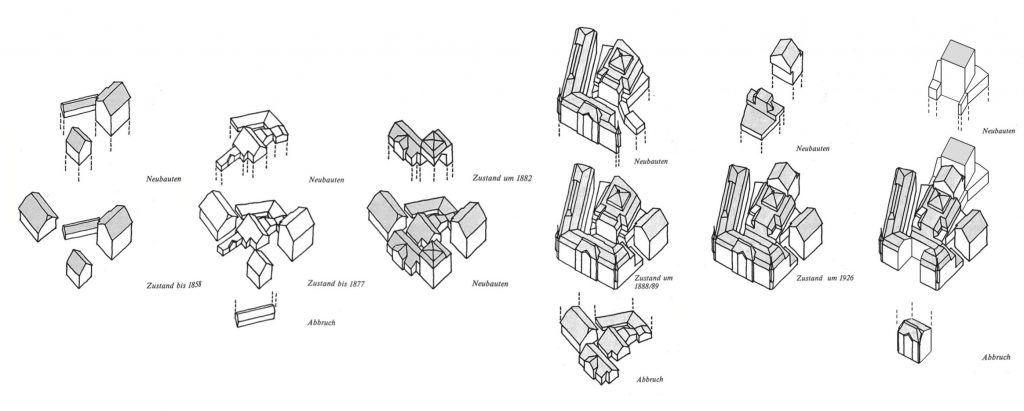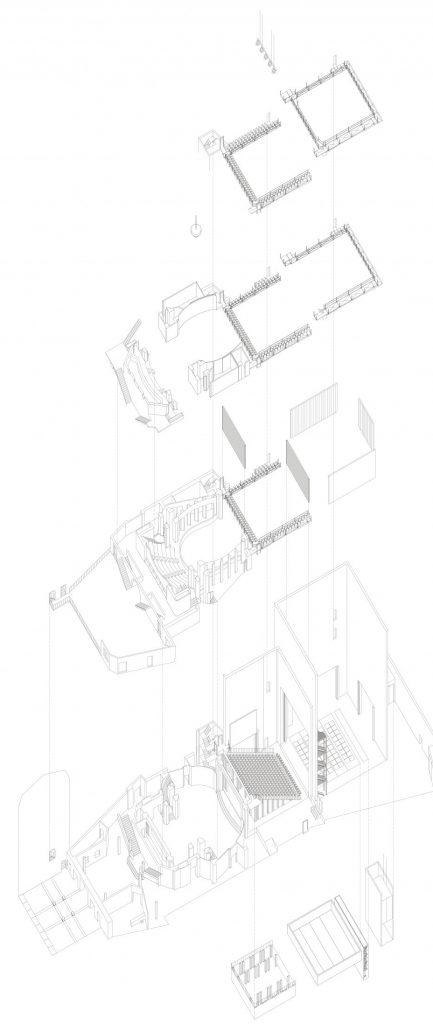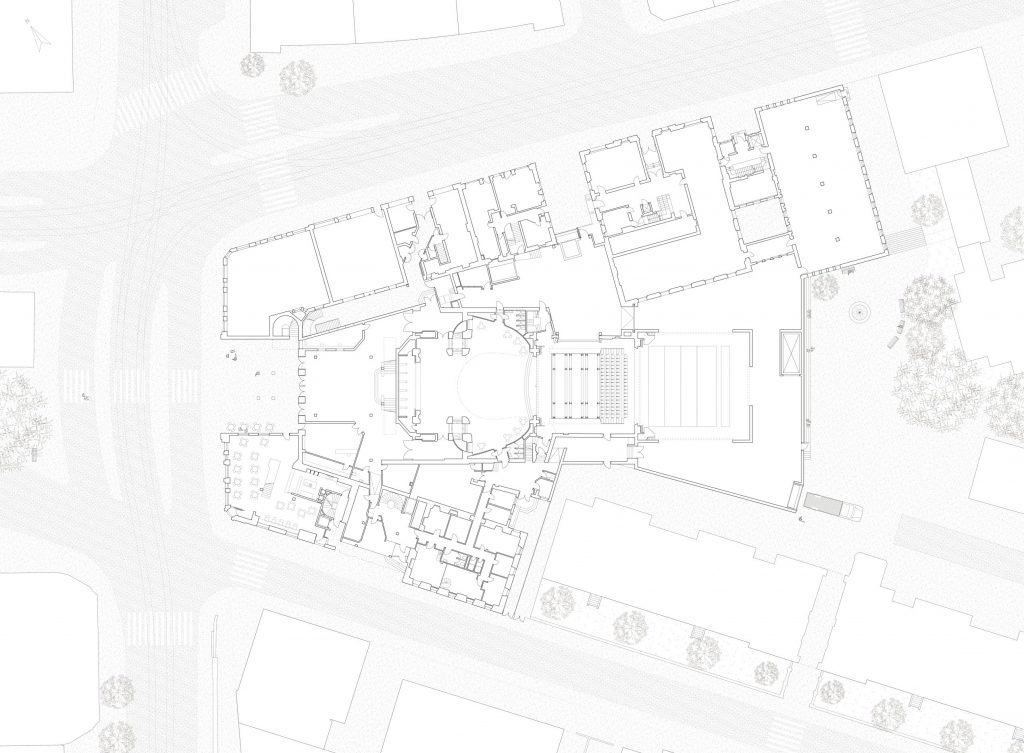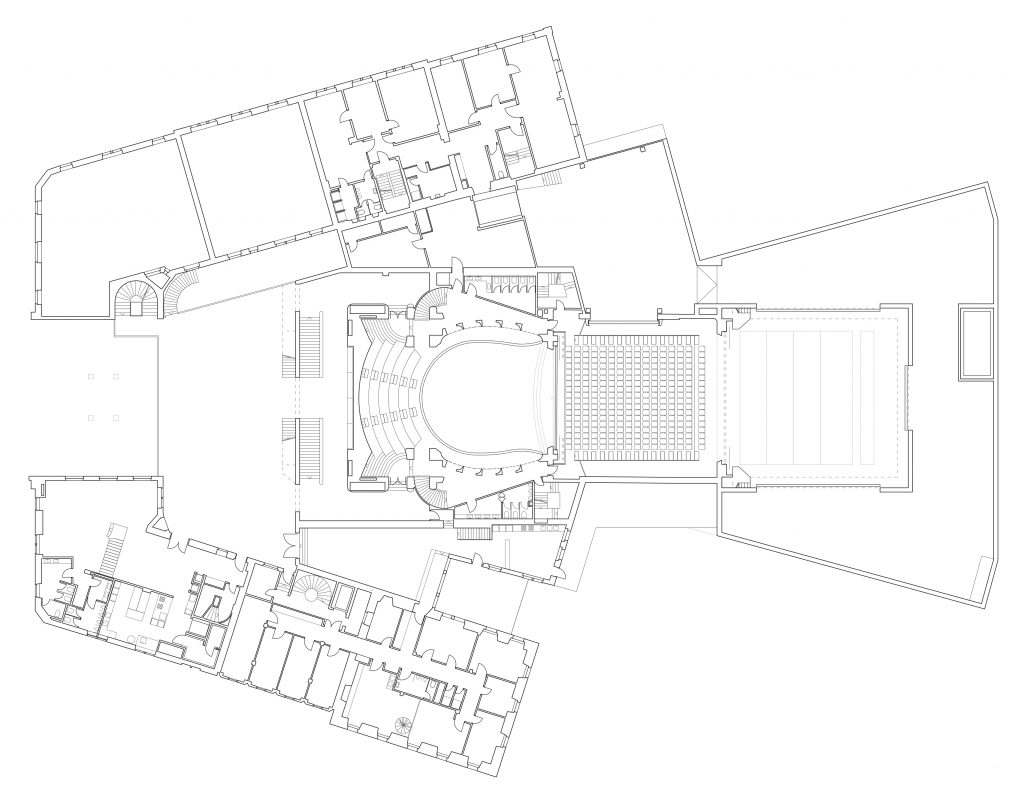 Grundriss 1. Obergeschoss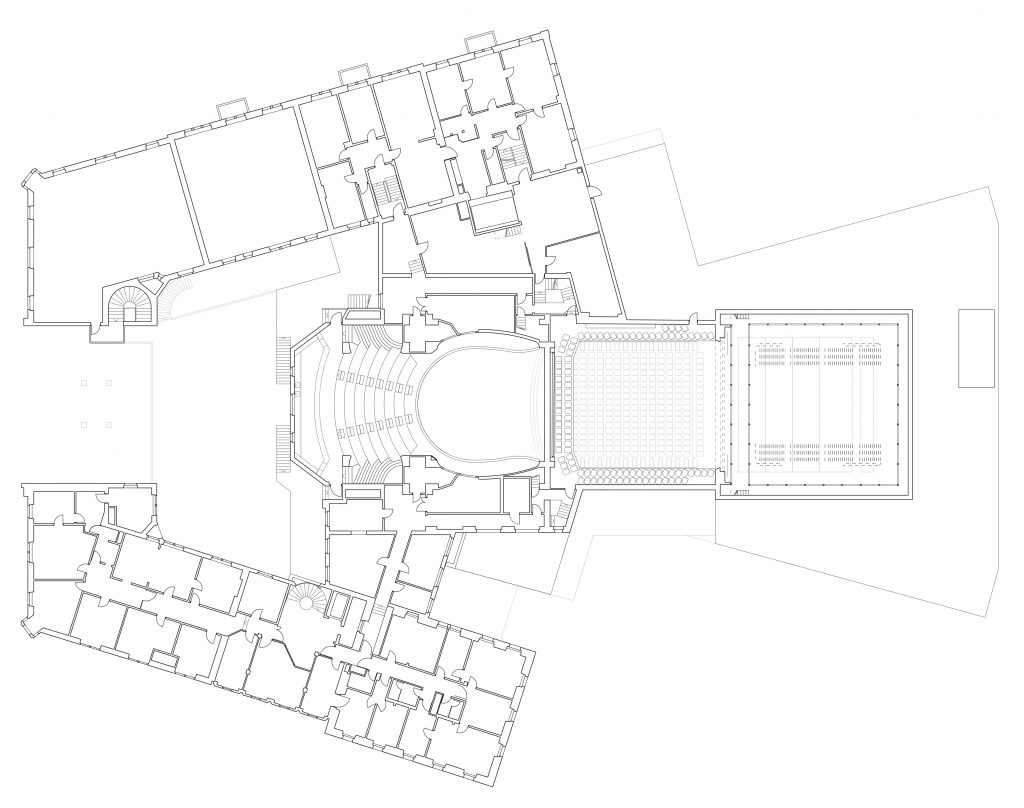 Grundriss 2. Obergeschoss