Studio HS 15: Bei der Arbeit – Idylle und Ideologie II
Von der Funktion zur Figur
Zu den Ergebnissen und Projekten der Studenten.
(English below)
Bei der Arbeit (Entwurfsstudio)
Das im Herbst 2015 angebotene Entwurfsstudio "Bei der Arbeit" folgt der Einladung für eine Zusammenarbeit der Assistenzprofessur mit der im Sommer 2016 in Zürich stattfindenden Manifesta 11. Es handelt von den Orten und Räumen der Arbeit in der Stadt – wie sie sich von der städtischen Öffentlichkeit abwenden oder sich selbstverständlich als Teil dieser verstehen und inszenieren. Wir lesen die Stadt durch die Linse ihrer Berufe. Der Entwurf interpretiert den Raum und die physische Gestalt, welche von diesen Berufen und ihren Subjekten innerhalb der Stadt in Anspruch genommen, gestaltet und geprägt wird. Wir arbeiten mit diesem subjektiven Blick objektbezogen an den scheinbaren und unscheinbaren "Monumenten der Arbeit". Der moderne Mensch lebt und arbeitet – am besten gleichzeitig. Folglich lässt sich Arbeit innerhalb der modernen Gesellschaft nicht vom Leben des Menschen trennen. Die Arbeit als räumlich und zeitlich be- und eingrenzbare Tätigkeit wird immer wieder in Frage gestellt. Ihre Kontur wird verneint (übrigens in ähnlichem Masse wie heute die Stadt und ihre Grenze anscheinend nicht mehr existieren). Aber es gibt sie noch, und wenn man sucht, finden sich erstaunlich viele Berufe, welche sich sehr präzise definieren und innerhalb der Gesellschaft (Stadt) lokalisieren und identifizieren lassen. Diese Berufe, ihre Strukturen, Orte und Subjekte sind identitätsstiftend und wichtig, sowohl als Text als auch Kontext einer Gesellschaft. Nur ein geringer Teil der Bevölkerung wohnt, schläft, liebt und lebt wo er arbeitet. Man geht immer noch zur Arbeit. Trotz aller zukunfts-ideologischer Einwände und Schwierigkeiten besitzt dies auch eine befreiende Klarheit. Im Herbstsemester 2015 werden wir uns diesen Orten, Gebäuden, Räumen und auch Clichés der Arbeit entwerferisch spekulativ nähern. Wie repräsentiert sich Arbeit in physisch-räumlicher Form? Jeder Studierende wählt sich einen Beruf; dies kann der Förster auf dem Hochsitz, der Polizist auf der Wache, der Richter im Gericht, der Musiker im Orchestergraben, der Mechaniker unter dem Auto, der Bademeister in Badehose oder der Wasseringenieur mit seinem Klärbecken sein. Als Ausgangsmaterial und Verbindung zwischen Berufsgattung und Subjekt dienen uns Berufsromane, Belletristik und Prosa. Die Person des Bademeisters definiert und kontextualisiert sich durch Hugo Löetschers Roman Saison, die Bibliothekarin durch Thomas Hürlimanns Fräulein Stark und der Pianist durch Elfriede Jelineks Klavierspielerin.
Cabaret der Künste – Zunfthaus Voltaire Bei der Arbeit
Das 25. Zunfthaus der Stadt Zürich (Einführende Wochenaufgabe als Teil des Semesterprogramms)
Wir bauen das Cabaret Voltaire, während der Manifesta 11 in Zürich, zum Zunfthaus der Künste um. Dieses "Zunfthaus Voltaire" ist das 25. Zunfthaus der Stadt und ebenfalls ausgestattet mit einem entsprechenden Satz an Konventionen und Ambitionen. Es ist dem Berufsstand des Künstlers vorbehalten und nur für Mitglieder zugänglich. Jedoch sind in Zürichs neuestem Zunfthaus auch Frauen als Mitglieder mehr als willkommen. Während des Sommers wird das Zunfthaus zum zentralen, performativen Ort der Manifesta 11. Als einführende Wochenaufgabe des Semesters findet ein Ideenwettbewerb zur Konzeption des 25. Zürcher Zunfthauses statt. Es werden Gestaltungskonzepte für das Cabaret der Künste gesucht und prämiert. Die Jurierung findet im Cabaret Voltaire statt und die einzelnen Projekte werden mit allen beteiligten Partnern diskutiert. Eine Gruppe von Studierenden wird zusammen mit der Professur an der Realisierung eines ausgewählten Projekts weiterarbeiten. Parallel zum Semester finden erste Sitzungen und Abklärungen statt. Die eigentliche Projektarbeit und Ausführung findet in einem daran angeschlossenen Spezialstudio im Frühjahr 2016 statt. Das Ergebnis dieser Arbeit wird gebaut. Alle Teilnehmer des Entwurfsstudios qualifizieren sich als Mitglieder des neuen "Zunfthaus Voltaire" im nächsten Jahr. Hier zur Projektseite des 25.Zunfthaus
*Idylle und Ideologie
"Idylle und Ideologie" ist eine Reihe von kritischen Untersuchungen durch die spekulative Uminterpretation des baulichen Bestands unserer Städte und Landschaften. Der Entwurf bewegt sich innerhalb der Disziplin im Spannungsfeld zwischen den Geschichten des Bestehenden und der Theorie der Architektur – einer Architektur mit kulturell, kontextuellem Anspruch und dem gleichzeitigen Verlangen nach Autonomie der Form. Die Stadt als gesellschaftlicher Ausdruck ist immer das kritische Projekt der Architektur selbst. Durch den Fokus auf Elemente des Ganzen lässt sich kollektive Form präzise architektonisch diskutieren und formulieren. Innerhalb dieser kollektiven Form suchen wir nach der Krise und der Chance des Objekts. Der Entwurfsprozess beschreibt die ideologische Überformung einer konstruierten Idylle und der damit verbundenen Verhandlung von Widersprüchen. Das Resultat ist eine Dritte Typologie zwischen Haus und Stadt.
Lernziele
Das konzeptionelle Entwickeln eines architektonisch, städtebaulichen Entwurfs und dessen spezifische Ausformulierung. Verständnis von Architektur als kulturelle Praxis mit einer starken, aber nicht stabilen Verbindung zur Gesellschaft, d.h. zur Stadt und zur Geschichte unserer gebauten Umwelt. Die Fähigkeit mit dem Entwurf und den Mitteln der Architektur einen kritischen Beitrag zu einem spezifischen Diskurs innerhalb der Disziplin zu liefern. Die Arbeit mit der spekulativen Realität der Architektur.
English version
From Function to Figure
At Work (Design Studio)
The project "At Work" offered during the 2015 fall semester follows from an invitation to collaborate with Manifesta 11, which will take place in Summer 2016. The project examines the spaces and places of work in the city – how they turn away from public urban life, or, on the contrary, remain a natural part of the city and even serve to stage it. We read the city through the lens of its professions. The studio interprets the physical and spatial gestalt that is occupied, designed and shaped by these professions and their subjects. Through this subject/object perspective, we focus on both the obvious as well as more inconspicuous "monuments of work". Modern man lives and works – preferably simultaneously. As a result, it is no longer possible to separate work from daily life in modern society. The whole concept of work as a spatially and temporally limiting and/or limited activity is repeatedly being questioned. Its contours are being negated (similar, by the way, to how the city and its borders apparently no longer exist). But they are still there, and if one were to take a closer look, it would be clear that there are a surprising number of professions, which can be identified, very precisely defined and located within society (the city). These professions, their structures, sites and practitioners create identity and are important both as the text – and as the context – of a society. Only a fraction of the population resides, sleeps, loves and lives where they work. One still goes to work. Despite all forward-looking objections on this matter, there exists a certain liberating clarity. In the 2015 fall semester, we address the places, buildings, spaces and clichés of work as speculative designers. How is work represented as a physical and spatial form? Each student selects a profession; this can be anything from a forest ranger on his perch, to a policeman on watch duty, from a judge in the courthouse to a musician in an orchestra pit, from a mechanic under a car to a lifeguard in his swimming trunks or even a water engineer with his purification tanks. Our starting point and the connection between the profession itself and those who work in each particular field is informed by literature, prose and other works of fiction dealing with work. The character of the lifeguard is, for instance, be defined and contextualized by Hugo Löetscher's novel "Saison", the librarian's personality is adapted from Thomas Hürlimann's "Fräulein Stark" and the pianist is parsed from Elfriede Jelinek's "Klavierspielerin".
Cabaret of the Fine Arts – Voltaire Guild House
The city's 25th guild house (Introductory one-week exercise as part of the semester program) We are going to convert the Cabaret Voltaire for Manifesta 11 in Zurich into the Fine Arts Guild House. The "Voltaire Guild House" is the 25th guild house in the city, and as such, it is to be outfitted with the appropriate set of conventions and ambitions. It is reserved for the artistic trade and only accessible to its members. However, in Zurich's newest guild house, women are more than welcome. During the summer months, the guild house will become a central and performative space for Manifesta 11. This introductory weeklong exercise at the beginning of the semester takes the form of an ideas competition for the concept of the 25th Zurich guild house. We are looking to select and develop a winning design concept for the conversion of the Cabaret of the Arts. The jury will meet in the Cabaret Voltaire and each project will be discussed with all involved partners. Together with the chair, a group of students will then realize the winning design concept, which will be completed within the framework of a special design studio planned for the 2016 spring semester. The results of this studio will be built. All participants of the design studio qualify to become members of the new "Voltaire Guild House" next year. Here to the project site of the 25th guild house
*Idyll and Ideology
'Idyll and Ideology' is a series of critical studies that speculates about, while also reinterpreting, the structural inventory found within our towns and countryside. The design project is rooted within the context of the discipline between the theory of architecture and the stories of the built environment– an architecture that claims to be both cultural and contextual while simultaneously pursuing the desire for the autonomy of form. The city as a cultural expression has always been the critical project of architecture. By focusing on individual elements that make up the whole, a precise architectural discussion can be developed about collective form. The design process describes the ideological reshaping of a constructed idyll and the related negotiation of its resulting contradictions. The outcome is a third typology between house and city.
Aim
To develop concepts of architectural and urban design and its specific formulation. Understanding architecture as cultural practice with a strong but unstable connection to society, i .e. to the city and the history of our built environment. Through design and means of architecture, being able to deliver a critical contribution to a specific discourse within the discipline. Working with the speculative reality of architecture.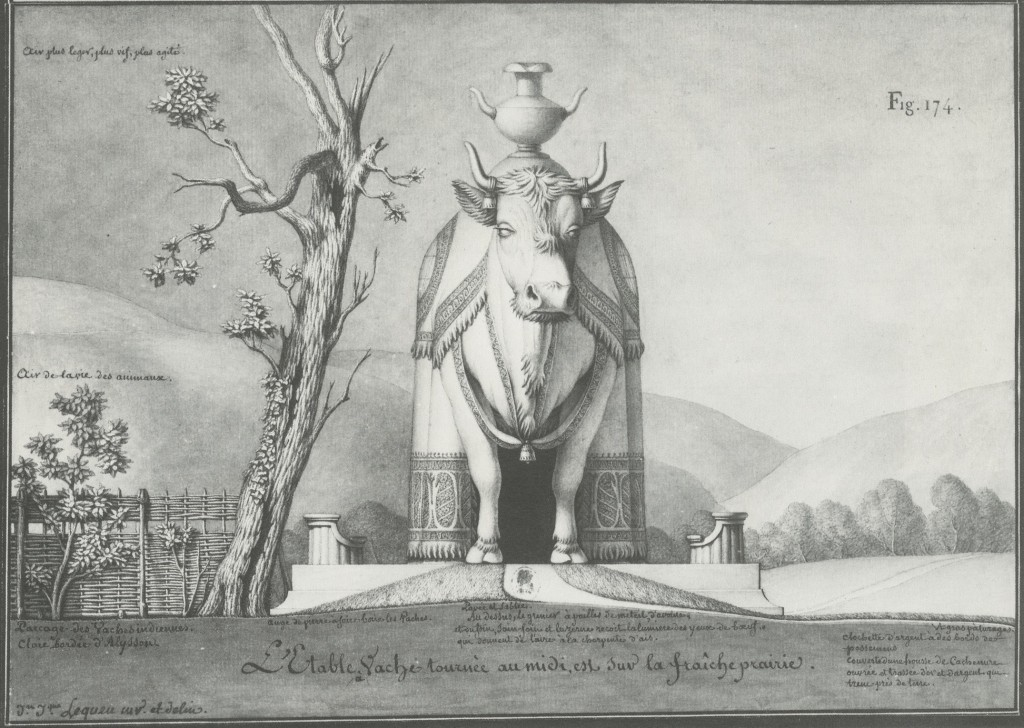 Jean-Jaques Lequeu, The Cow Byre faces south on the cool meadow, 1795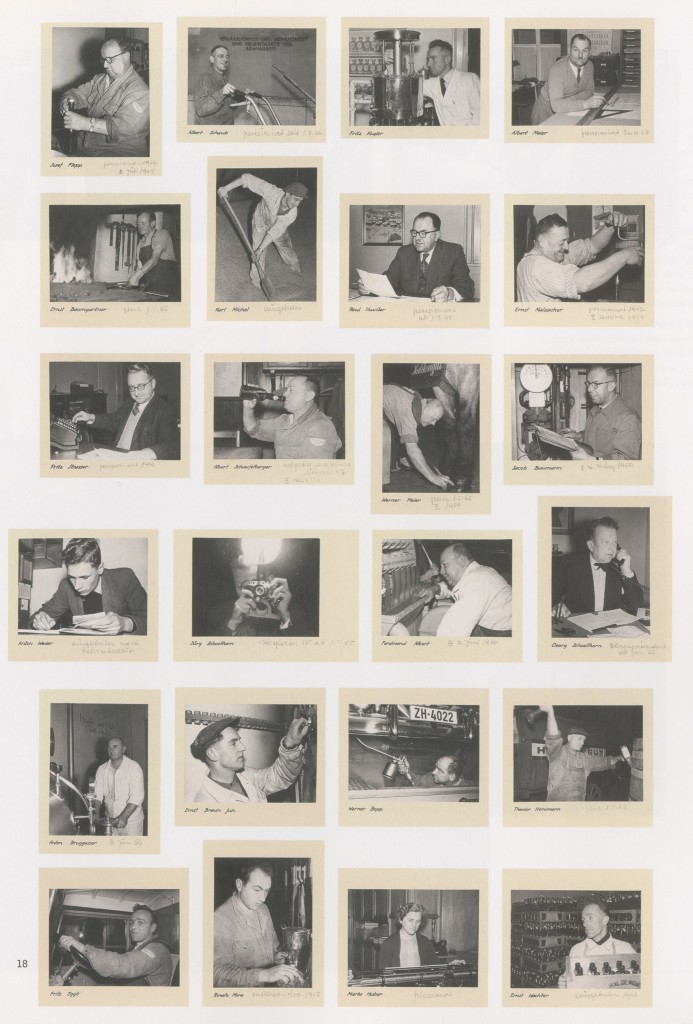 Jürg Schoellhorn, Aus dem Album "Haldengut 1954"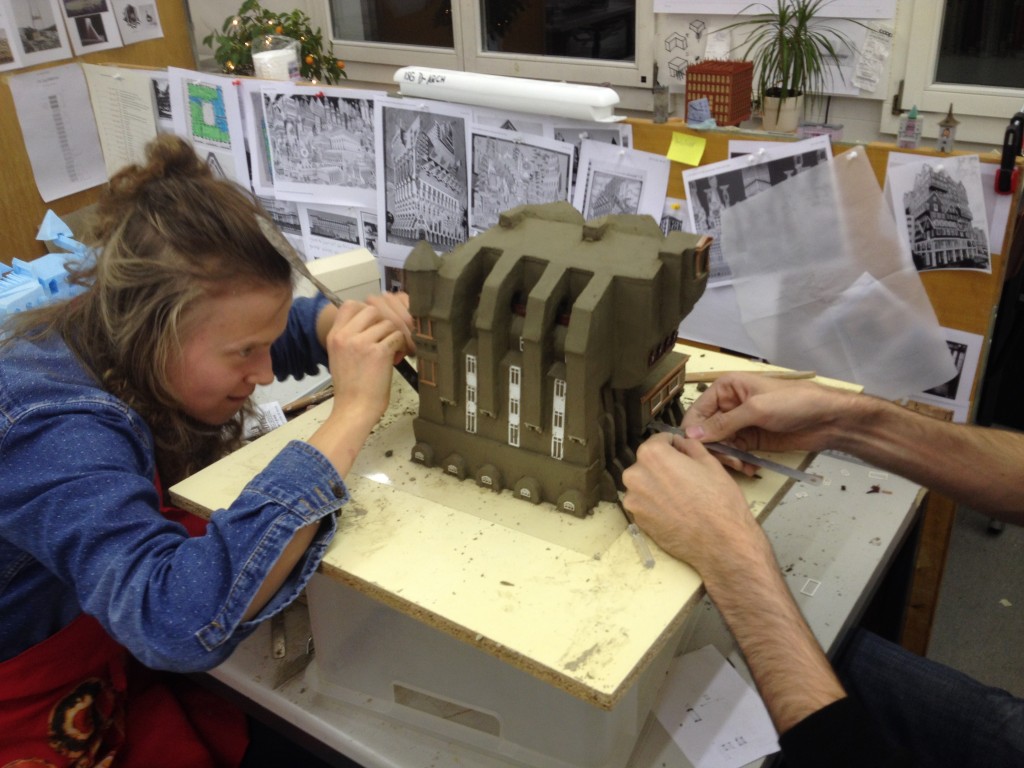 "Der Hotelier" Anastasia König and Dino Pedrazzini at work.