Figuring F.W. Junghuhn—Symposium ETHZ
April 20, 2016
Symposium, Wednesday, April 20, 2016, 1-5 pm
ETH Zurich, Hönggerberg, HIL, gta exhibitions
Participants: Elisabeth Bronfen, Armin Linke, Alex Lehnerer, Mischa Leinkauf, Clive Oppenheimer, Bas Princen, U5, Renate Sternagel, Philip Ursprung, Matthias Wermke
Organization: Prof. Philip Ursprung and Prof. Alex Lehnerer
In conjunction with the gta exhibition "17 Volcanoes – Figures in the Landscape of Java" and the Future Cities Laboratory, Singapore-ETH-Centre.
Exhibition: 17 Volcanoes – Figures in the Landscape of Java
Between 1836 and 1848, the German explorer Franz Junghuhn made several expeditions on Java in the service of the Dutch colonial authorities. He was among the first to climb the island's many volcanoes. His scientific works, books, maps, and lithographs made him the "Humboldt of Java."
We follow Junghuhn's footsteps and explore 17 of his favorite Javanese volcanoes.
As giant figures in the landscape, these volcanoes are deeply rooted in the cultural life of Java. They created the land and continuously transform it. Their potential destructiveness is overwhelming. Yet, they shape the land and feed the people by producing fertile grounds for one of the world's most densely populated islands. Volcanoes cannot be considered landscape. They are objects with distinct qualities—personalities—and are even able to talk. They remain silent for a while, and suddenly start to speak again. By visiting Junghuhn's favorite volcanoes, we converse with each of them as well. The closer we get to them, the clearer we perceive their singularity. They help us to define the island of Java not by its exterior coastline, but from within.
The 17 volcanoes form territorial markers that allow us to interweave historical and contemporary narratives of Indonesia. As politically, economically and culturally charged objects that act and behave in periodic cycles, these volcanoes are neither urban nor rural, alive nor dead, past nor present, good nor bad. Their ambiguous existence makes them particularly interesting for an architectural scrutiny.
This exhibition marks the start of a three-year collaborative research project between the Professorship of Art and Architectural History of Philip Ursprung, the Assistant Professorship of Architecture and Urban Design of Alex Lehnerer, and a group of external partners. It is part of the Future Cities Laboratory and funded by the National Research Foundation of Singapore.
The show presents some of Junghuhn's scientific and artistic works in conjunction with works of art by Bas Princen, Armin Linke and U5 (Martin Kunz, Stefanie Rubner, Berit Seidel). All of them join us on our expeditions to Java, together with experts such as the volcanologist Clive Oppenheimer as well as many doctoral students, students, and assistants of this school.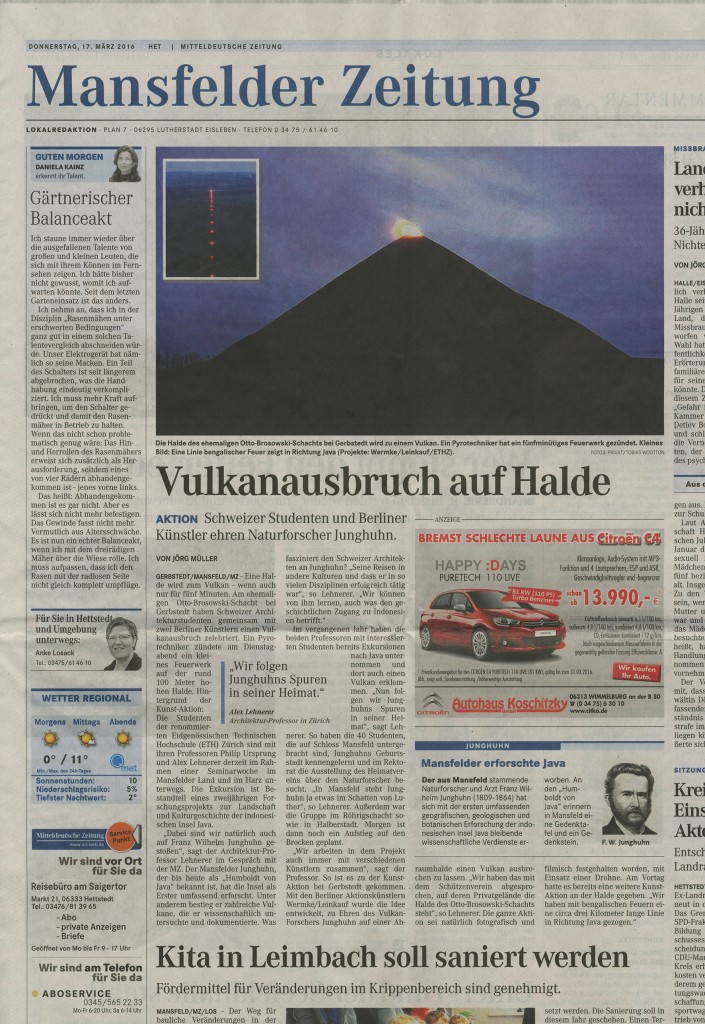 Seminar week (spring 2016) to Mansfeld/Harz and the eruption of a volcano.